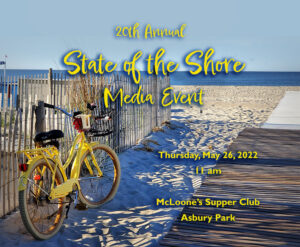 As the days grow longer and sun shines brighter, New Jerseyans once again emerge from their annual winter slumbers to trade in their boots for flip flops and head to the coast. Leaving the dark cold days of winter behind, beachgoers look forward to another season of fun on the Jersey shore.
This summer is projected to be both hotter and wetter than usual due to weak La Niña conditions. This year's State of the Shore Report will further explain and expand upon the causes of these conditions and more, but the bottom line is: pack an umbrella with your sunscreen and sunnies. Read more in this year's State of the Shore.
NJSGC invites media and tourism representatives to learn more about the ever-changing conditions of our shoreline from a group of local scientists and environmental managers. Like past years we hosted the State of the Shore press event at Tim McLoone's Supper Club located on the iconic Asbury Park boardwalk, with guest speakers including NJSGC Coastal Processes Specialist Dr. Jon Miller and NJDEP Commissioner Shawn LaTourette.
Dr. Jon K. Miller (NJSGC/Stevens Institute of Technology) delivered a promising report at this year's State of the Shore media event, announcing that NJ beaches are in prime condition heading into the Memorial Day Weekend (and more!). However, Dr. Miller warns of a busy hurricane season and the need for preparedness with climate change and sea level rise.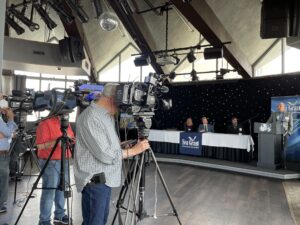 STATE OF THE SHORE (press coverage):
NJDEP: Commissioner Visits Jersey Shore and North Jersey Lake Communities in Unofficial Start to Summer Season Ahead of Memorial Day Weekend
94.3 the Point: NJ beaches in good shape, but one storm could change everything
Asbury Park Press: Jersey Shore residents urged to prepare for active hurricane season this summer
ABC7: NJ officials declare Jersey Shore, lakeshores ready for summer 
New Jersey 101.5: NJ beaches in good shape, but one storm could change everything