Optimizing Green Infrastructure and Low Impact Development to Mitigate Impacts on Freshwater Systems
Funded in 2021 by NOAA through the National Sea Grant Office, this project Optimizing Green Infrastructures and Low Impact Developments to Mitigate Runoff and Pollution Impacts on Freshwater Systems, aims to optimize the deployment of innovative green infrastructure/low-impact development (GI/LID) techniques to maximize their environmental, economic, and social benefits through research and catalyzed collaboration between the Sea Grant Network and other agencies to mitigate runoff and pollution impacts on freshwater systems eventually protecting coastal ecosystems in the U.S. 
Click here for the project abstract.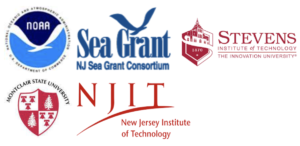 The GI/LID project is announcing the release of a request for proposals (RFP) for a regional research competition focused on Green Infrastructure and Low Impact Development in urban and metropolitan areas of the Mid-Atlantic coastal states (NY-NJ-DE-PA-MD-VA-NC) for research projects of up to 18 months requesting up to $160,000. Letters of Intent: March 24, 2023. Full Proposals: June 9, 2023.
Please click here for more information on how to apply. 
Slides from the March 25th and June 9th, 2022, Sea Grant GI/LID Stakeholder Advisory Group Workshops are available.
Two webinars were hosted by the NJ Sea Grant on March 25th, 2022, and June 9th, 2022, with the stakeholder advisory group who have experience with and/or expertise in stormwater management and GI/LID techniques to review survey findings, discuss research needs, and recommend focus areas for this strategic framework.
PDF files of slides for the webinars can be found below:
An online survey was conducted on various stakeholders of the green infrastructure and low impact development techniques. The results are available here.
Strategic Framework
Sea Grant Green Infrastructure and Low Impact Development Techniques: Strategic Framework Report.
Click here to view the GI-LID development team.
For resources click here.
List of partners can be viewed here.