State of the Shore Media Event 2017
Earlier this week, the New Jersey Sea Grant Consortium hosted its 15th annual State of the Shore media event overlooking the gorgeous surf in Long Branch, NJ. According to NJDEP Commissioner Bob Martin, public beaches throughout the Jersey Shore are in great condition and ready for the influx of summer visitors starting this Memorial Day Weekend.
After outlining the current status of several coastline restoration projects following the devastating effects of 2012's Superstorm Sandy, Martin also noted that overall water quality is "excellent" and that the forecast for the 2017 season continues to look very promising.
Dr. Jon K. Miller – NJSGC's Coastal Processes Specialist and a research associate professor at Stevens Institute of Technology – also presented his official State of the Shore Report with assistance from Mid-Atlantic Coastal Storms Graduate Research Fellow, Laura Lemke.
Thankfully, the Garden State only experienced two semi-major Nor'Easters (including Winter Storm Stella) that did cause some noticeable beach erosion. Dr. Miller's keen focus on observed water levels and coastal wave heights during such storms helped construct the newly-developed Storm Erosion Index (SEI). Hopefully in the future, this index will assist shore communities in recognizing and therefore better preparing for incoming storms before they even reach the coast.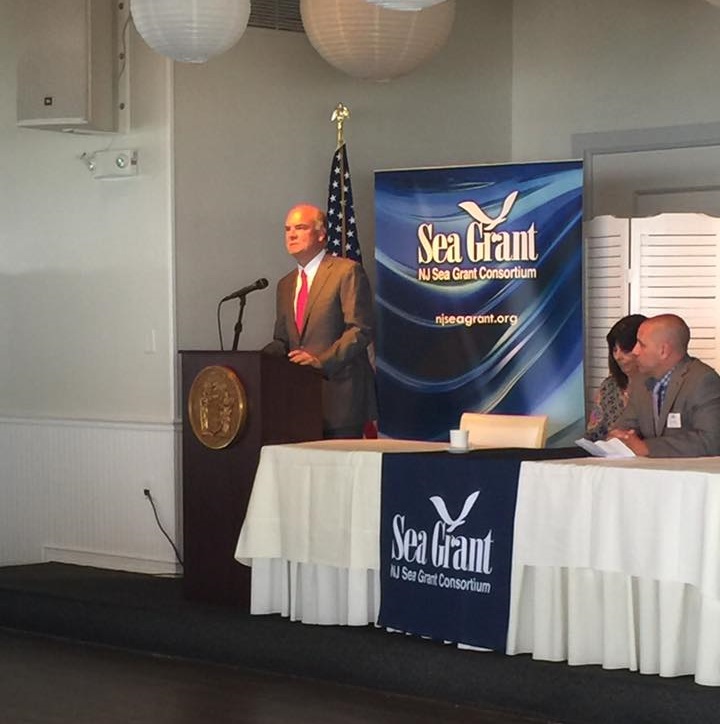 This yearly report remains an invaluable tool for those interested in the ever-changing conditions (whether good or bad) of NJ's beloved shoreline, especially leading up to the fifth anniversary of Sandy. As the Commissioner enthusiastically sums it up – "Please come to the Jersey Shore; we have beautiful beaches and we want you here this summer."
View the full State of the Shore report here.
We would like to thank all members of the press who attended and posted coverage of this event. We would also like to thank McLoone's Pier House in Long Branch for hosting this year's gathering. For more local coverage:
For more information, please contact NJSGC's Communications Specialist Danica Bellini at [email protected].