Coastal Concerns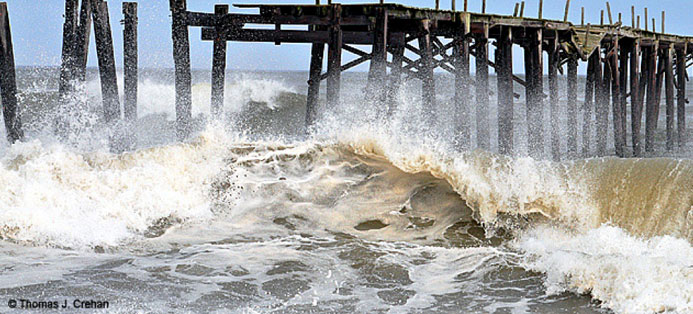 With 130 miles of Atlantic coastline and 1,792 miles of tidal shore, New Jersey can readily be described as a coastal state. Nearly 9 million people reside within New Jersey's coastal counties year-round, with the population increasing dramatically during the summer vacation months. New Jersey's economy is also tightly linked with the use of coastal and marine resources, through industries such as port's commerce, tourism, aquaculture, and recreational and commercial fisheries. Thus, it is critical to ensure that these coastal resources upon which the entire state depends are managed in a way that enables economic growth while also safeguarding the health and integrity of such resources for use by future generations.
Dune Manual
The dune manual is a resource for government officials and others with the responsibility of building and maintaining dunes along New Jersey's ocean front and bay shores. The guide addressed issues such as: permits and permissions, preparing a dune for planting, what to plant when, where and how; what not to plant, amendments to increase the success of your plantings, and sources of native plants for your restoration.
Coastal Resilience
Major storms in recent years like Tropical Storm Irene and Superstorm Sandy have had major impacts to life and business in nearly every region of the state. Sandy in particular hammered the Jersey Shore as it flooded communities and destroyed transportation, homes and businesses. The storms' legacy is one of becoming more resistant to major storms and the long-term effects of sea-level rise.
Rip Current Awareness Program
The Extension Program manages a comprehensive rip current awareness campaign for New Jersey which includes producing and distributing thousands of metal signs in English and in Spanish, warning swimmers about the danger of rip currents and illustrating what to do if caught in one.
Climate Infographic
This infographic was created using data from a Monmouth University national poll on climate.
New Jersey Coastal Access Website
The New Jersey Coastal Access website offers legal information and tools that address coastal access issues and enables New Jersey's waterfront users, coastal communities, and land owners to deal with those issues cooperatively and hopefully without litigation.
Coastal Heritage New Jersey
Historic and cultural sites exist up and down the New Jersey coast, but are widely unknown. To better inform visitors and residents of tourism opportunities, the Extension Program developed a Coastal Heritage New Jersey Web Guide – currently under revision.