Ocean Fun Days Goes Virtual Starting October 10th!
Celebrating 17 Years with 17 Days of Virtual Family Fun and Education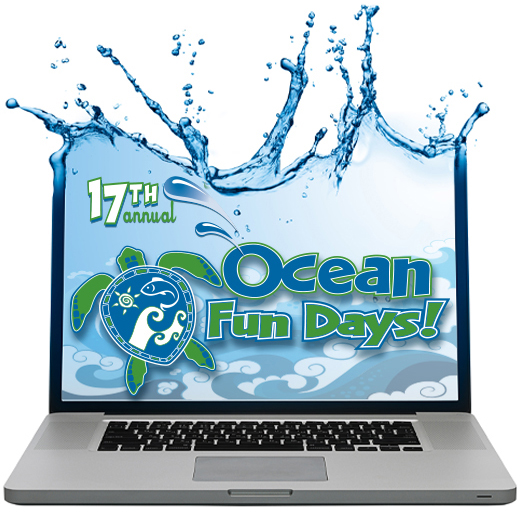 This year's family friendly Ocean Fun Days event (originally scheduled to be held at Island Beach State Park and Sandy Hook in May) will now take place virtually starting October 10th and run for 17 days.
Online video presentations from over 30 exhibitors will provide eco-friendly fun focused on ocean discovery, coastal stewardship and energy conservation. Several presentations provide fascinating information about some of our most important local animals, including horseshoe crabs and harbor seals. There will also be videos on boating safety and saving energy and the environment. In addition, you'll find other fun activities like word searches, crossword puzzles, coloring pages, and more.
The new event platform includes a short "throwback" video from New Jersey Sea Grant Consortium's famous Fiddler Crab Races, and a quick video on Diamondback Terrapin turtles recorded during our Virtual Summer Day Camp program – culminating in exciting turtle races!
Online experiments (including some from our member college professors and current research being done at the National Oceanic and Atmospheric Administration, or NOAA, Fisheries Lab) provide a great resource for teachers to share with students in their virtual classrooms. There are plenty of additional resources, including worksheets, and other learning tools for educators and parents alike.
Stating October 10th, visit oceanfundays.org to join the fun!
So, what's next? We're hoping for an in-person event come 2021! Save the dates for May 22 at Island Beach State Park and May 23 at Sandy Hook.
Ocean Fun Days is presented by founding sponsor New Jersey Natural Gas, in partnership with New Jersey Sea Grant Consortium, Asbury Park Press, New Jersey Department of Environmental Protection, New Jersey Division of Parks and Forestry, National Park Service, and the National Oceanic and Atmospheric Administration. Please contact our Communications Specialist for more information.