Ocean Fun Days 2023 Dates Announced!
It's official! The 20th annual Ocean Fun Days will take place on May 20 at Island Beach State Park in Seaside Park and May 21 at the New Jersey Sea Grant Consortium headquarters on Sandy Hook – a perfect event for families and kids. With fun activities, eco tours, hands-on workshops, and much more, there's something for everyone.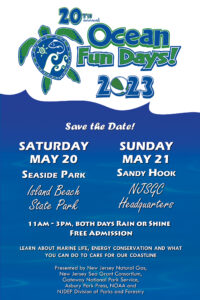 Click here for more info. Check out OceanFunDays.Org for some fun from last year!