New Jersey Clean Marina Program Now Supports Over 40 Certified Local Establishments!
The New Jersey Clean Marina Program  is a voluntary, incentive-based initiative that encourages marinas to adopt environment-friendly business practices to reduce pollution in local waterbodies.  The NJCMP is managed by the Coastal Management Office of the NJDEP and has entered into a formal agreement with the Extension Program to carry out additional tasks such as outreach to marina owners, yacht clubs and boatyards, coordination of educational workshops and provision of technical assistance.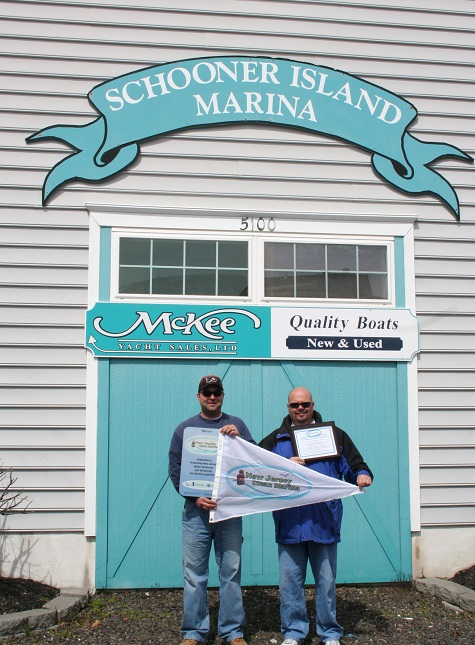 The following marinas have been certified as New Jersey Clean Marinas by the New Jersey Clean Marina Program
ATLANTIC HIGHLANDS MUNICIPAL MARINA                           LOCKWOOD BOAT WORKS
BAKERS MARINA ON THE BAY YACHT CLUB                          LONG KEY YACHT CLUB AND MARINA
BAYWOOD MARINA                                                                    MAIN ONE MARINA, INC.
BRENNAN BOAT COMPANY                                                      MORGAN MARINA
BRIDGE MARINA                                                                         MORRISON'S BEACH HAVEN MARINA
BROWN'S BOAT YARD                                                               MUNRO'S MARINA INC.
C-JAM YACHT SALES                                                                NEW LIBERTY LANDING MARINA
CLARK'S LANDING MARINA                                                     OCEAN GATE YACHT BASIN
CURTIN MARINA                                                                        PERTH AMBOY HARBORSIDE MARINA
DILLON'S CREEK MARINA                                                        PIER 47 MARINA
FORKED RIVER STATE MARINA                                               ROBBIES LOVELADIES MARINA
GARDEN STATE YACHT SALES                                               SCHOONER ISLAND MARINA
GOOD LUCK POINT MARINA                                                  SHERMAN'S BOAT BASIN
GREEN COVE MARINA                                                             SHORE HAVEN YACHT CLUB
HAGLER'S MARINA INC                                                            SHORE POINT MARINA
HARBOR VIEW CLUB AND MARINA                                       SILVER CLOUD HARBOR MARINA
HOBBY LOBBY MARINE                                                           SOUTHWICKS MARINA
JERSEY SHORE MARINA BOATS                                            SPENCER'S BAYSIDE MARINA
KAMMERMAN'S ATLANTIC CITY MARINA                              SPRING GARDEN MARINA
KEY HARBOR MARINA                                                              THE MARINA AT TALL OAKS
LEAMINGS MARINA, INC                                                          TWIN LIGHTS MARINA
LEONARDO STATE MARINA                                                     VIKING YACHTING CENTER
LIGHTHOUSE MARINA                                                              WILBERT'S MARINA
For more contact information on each marina listed above, please click here.
Each facility has successfully implemented sufficient best management practices, earning a Clean Marina score of at least 80%, thus demonstrating a commitment to protecting water quality and coastal resources by preventing and reducing nonpoint sources of pollution. Congratulations to all on your effort and success!
You can learn more about the NJCMP by downloading a copy of the brochure, requesting a copy of the NJ Clean Marina Guidebook, or visiting njcleanmarina.org.
Contact: Michael Danko