Rip Current Awareness Program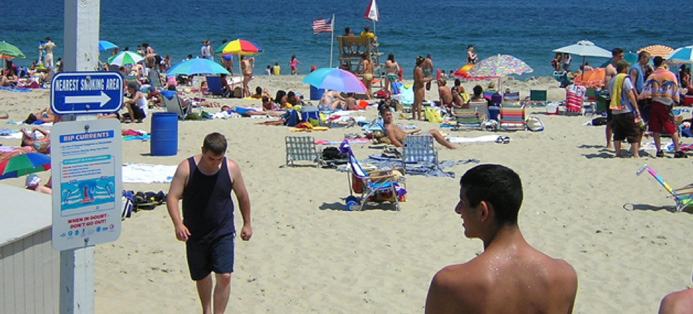 The Extension Program manages a comprehensive rip current awareness campaign for New Jersey which includes producing and distributing thousands of metal signs in English and in Spanish, warning swimmers about the danger of rip currents and illustrating what to do if caught in one.
The signs are posted at high-traffic beach access and bathing points in essentially every shore community along the New Jersey coast. Rip current awareness brochures are distributed at municipal buildings, beach badge check-points and other strategic locations from Sandy Hook to Cape May. The initial rip current awareness project was a partnership effort between NJSGC and the NJDEP, NJDOT, NJ Travel and Tourism, NOAA-NWS and the NJ State Police OEM.
Municipal officials interested in obtaining additional signs in English or in Spanish can contact the New Jersey Sea Grant Consortium at 732-872-1300 ext 10.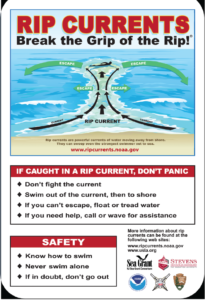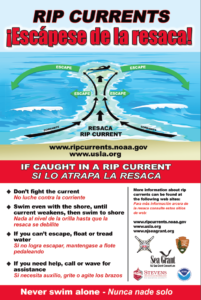 Any municipality or organization interested in arranging for a speaker or special presentation about rip currents for workshops, conferences or public meetings can contact Dr. Jon Miller.
Resources
Rip Current Products
Contact: Dr. Jon Miller