The Role of Sea Grant in the Career of Dr. Kenneth W. Able (American Fisheries Society, 2018 Session)
Dr. Kenneth W. Able – longtime Director of the Rutgers University Marine Field Station and NJSGC-funded researcher – was honored with the Dwight A. Webster Memorial Award from the Northeastern Division of the American Fisheries Society (AFS) during the organization's annual conference held in Atlantic City earlier this month.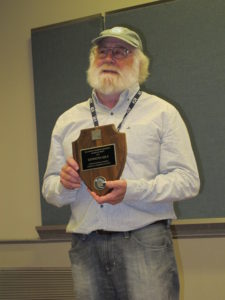 The  one-day specialty session aimed to celebrate Dr. Able's lifelong achievements in the field of marine science and beyond:
Dr. Kenneth W. Able has been a faculty member at Rutgers University for 40 years and the Director of the Marine Field Station for over 30 (since 1987). His contributions to estuarine and marine ecology are ubiquitous. They include 252 publications, 23 published abstracts, 3 books, and 51 technical reports. He has received 163 grants, exceeding $20 million. Over the course of his career, he has advised 85 undergraduate and 41 graduate students and mentored 23 postdoctoral researchers. Dr. Able has been honored with multiple awards, such as the Nancy Foster Habitat Conservation Award (2014), the Rutgers University School of Environmental and Biological Sciences Research Excellence Award (2014), and the Oscar E. Sette Outstanding Marine Fishery Biology Award, American Fisheries Society (Marine Fisheries Section, 2004).The purpose of this special symposium is to celebrate Dr. Able's career. Presentations in this symposium will emphasize his research interests in habitat interactions; the impacts of fisheries, urbanizing estuaries, and climate change on fishes; restoration ecology; and long-term ecological monitoring. Synthesis talks will include results from Dr. Able's studies, and legacy talks will include studies that have built upon his findings.
Associate Director for the Sea Grant Administration and New Jersey Sea Grant Consortium's Director of Research & Extension Dr. Peter Rowe held a session entitled "The Role of Sea Grant in the Career of Kenneth W. Able" to honor his ongoing collaboration and contribution to NJSGC's overall mission. For more information, please view the abstract in its entirety.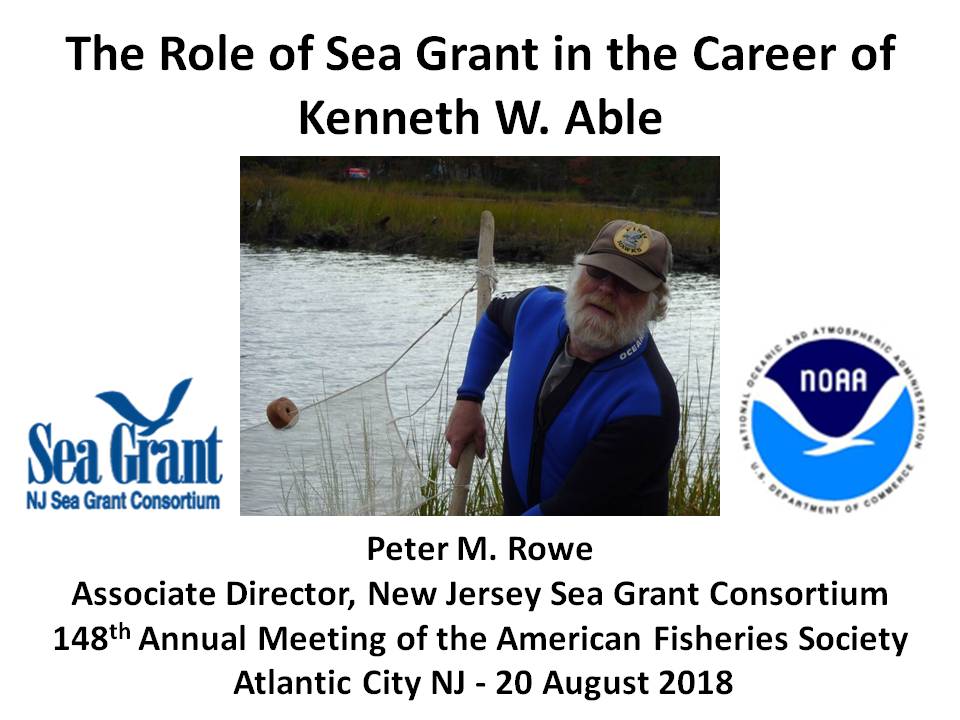 Also during the session, University of Rhode Island undergrad Dawn Parry won AFS'  "best student poster" presentation for her ongoing work with NJSGC's Juvenile Striped Bass research project. Dr. Able is also a distinguished professor on this project, along with Principal Investigator  Dr. Olaf P. Jensen and Assistant Research Professor Dr. Paola Lopez-Duarte (Rutgers University). An overview of Parry's "Distinguishing Juvenile Striped Bass Habitats and Spawning Sites Using Otolith Microchemistry" proposal is as follows:
Recruitment of striped bass from the mid-Atlantic Bight northward is thought to result from spawning in the Chesapeake Bay, Delaware River, and Hudson River. However, juvenile striped bass occur in smaller estuaries throughout their range that could also be spawning sites. One way to determine the origin of striped bass is to study the elemental signatures in their otoliths. As fish grow, trace elements that reflect local environments are incorporated in the otoliths. We used otolith microchemistry to determine whether juvenile striped bass (<300mm TL) collected in New Jersey (Hudson, Raritan, Mullica, and Delaware rivers) from 2014 to 2017 had distinct signatures. Using Laser Ablation Inductively Coupled Mass Spectrometry, we measured elemental signatures along the otolith edge, which correspond to the most recent environmental conditions experienced by the fish, and elemental signatures closest to the otolith core, which reflect conditions at the spawning site. Principal component analysis revealed that strontium was the most important driver of chemical variation among otoliths from different sites. Otoliths from fish in the Hudson, Mullica, and Delaware rivers had distinct signatures that did not vary greatly over multiple years. Raritan River otoliths separated into two groups, indicating that fish collected there may have originated elsewhere.
NJSGC congratulates Dr. Able and Ms. Parry on these monumental achievements, and would also like to thank organizers Dr. Paola Lopez-Duarte and Dr. Thomas M. Grothues for putting together such an outstanding symposium.