Rip Current Awareness Program
The Extension Program manages a comprehensive Rip Current Awareness campaign for New Jersey which includes producing and distributing thousands of metal signs in English and in Spanish, warning swimmers about the danger of rip currents and illustrating what to do if caught in one.
The signs are posted at high-traffic beach access and bathing points in essentially every shore community along the New Jersey coast. Rip Current Awareness brochures are distributed at municipal buildings, beach badge check-points, and other strategic locations from Sandy Hook to Cape May. The initial Rip Current Awareness project was a partnership effort between NJSGC and the NJDEP, NJDOT, NJ Travel and Tourism, NOAA-NWS, and the NJ State Police OEM.
Municipal officials interested in obtaining additional signs in English and Spanish,  or copies of NJSGC's rip current safety trifold brochure, please contact the New Jersey Sea Grant Consortium at 732-872-1300 ext 10.
Any municipality or organization interested in arranging for a speaker or special presentation about rip currents for workshops, conferences, or public meetings can contact Dr. Jon Miller.
Coastal Ecosystems Extension Agent Dr. Amy Williams also created a unique Jeopardy-style trivia game entitled "Sharks vs. Rip Currents" – specifically designed to educate students and children about the dangers of changing currents. Just last year, thousands of bookmarks inspired by "Sharks vs. Rip Currents" were distributed to young beachgoers throughout the Jersey Shore area, with fun and easy-to-remember facts about safe and smart ocean swimming.  Please contact us for more information. And be sure to always remember, "When in doubt, don't go out!"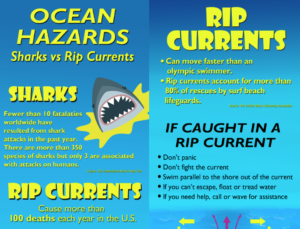 For any additional information, please contact our Communications Specialist Danica Bellini.
Resources
Rip Current Products (PDF)
Rip Current Awareness Brochure
Rip Current Awareness Brochure (Spanish)