The New Jersey Sea Grant Consortium Broadcasting LIVE from the Asbury Park Boardwalk with 94.3 The Point!
June 2017 – Thanks to our longtime community partner, New Jersey Natural Gas, NJSGC will contribute weekly radio talks about ocean safety, current beach conditions, and other important environmental issues on "The Jersey Shore's Hit Music Channel" – 94.3 The Point (WJKL) all summer!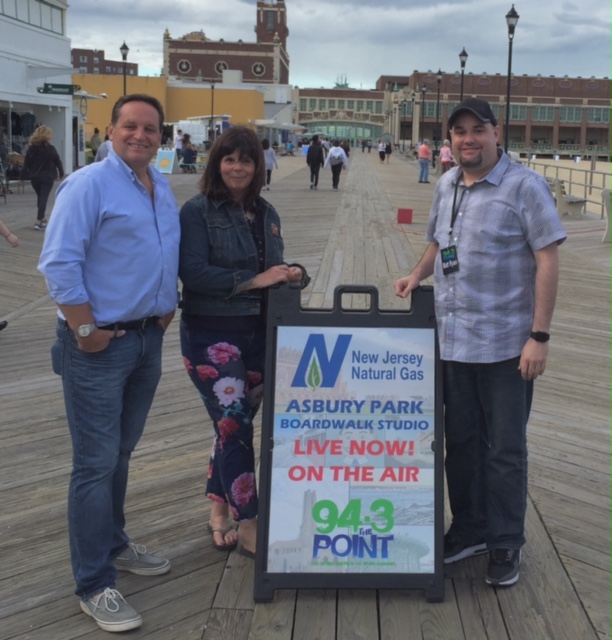 Tom Hayes of NJNG with Claire Antonucci of NJSGC and Matt Ryan from The Point
Sponsored by New Jersey Natural Gas, broadcasts will take place every Friday throughout the summer, at approximately 8:45 a.m. and 6:30 p.m. Among several "hot" topics, upcoming on air discussions will include:
Rip currents
Dunes
Sharks
Water quality
Summer events and activities
Expert members of NJSGC will lead each conversation with help from popular The Point radio DJs, including Matt Ryan.
Learn more about the New Jersey Natural Gas Asbury Park Boardwalk Studio at http://943thepoint.com/, where fans can also listen live 24/7.
The New Jersey Sea Grant Consortium will continue posting updates and reminders on Facebook, Instagram, and Twitter.
Please visit http://njseagrant.org/ for additional information, or contact NJSGC Communications Specialist Danica Bellini for any further questions and concerns.