Marine Laboratory and Field Work Opportunity: 10-week Undergraduate Internship
Project description: Bivalve aquaculture is one of the most important sectors of the aquaculture industry in the US and around the world. Bivalve aquaculture is environmentally friendly, family or community-based, and important to the socioeconomic well-being of coastal areas. The industry has been growing steadily and has the potential for significantly more growth. Yet, significant barriers to the growth of bivalve aquaculture in our region include the lack of oyster stocks well-adapted to high-salinity environments and alternative crops such as bay scallops and surfclams that can reach harvestable size before the onset of major mortalities. This project intends to address these challenges through selective breeding of stocks in collaboration with industry partners. Specific objectives are to:

1) Develop superior eastern oyster stocks for high-salinity environments;
2) Improve growth of bay scallops to enable within-year harvest;
3) Develop surfclams with fast growth and heat tolerance to enable early harvest;
4) Transfer project results to NJ and regional shellfish farmers.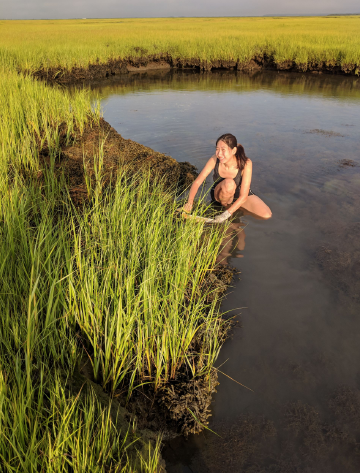 Duties: The intern would be trained in bivalve husbandry, marine field work, data collection and management, and preliminary statistical inference. Husbandry duties include spawning and monitoring adult broodstock, rearing larvae and juveniles, and maintaining the tanks and other equipment necessary for bivalve culture operations. Marine field work activities include deploying and monitoring bivalves at partnering farms and supporting other on-going projects. Data collection activities include tracking bivalve growth and survival and collecting water quality parameters. Other duties will include data entry and preliminary data analysis. Most of this work will take place in a seawater laboratory, and many tasks will require wet and messy physical labor.

Requirements: A valid driver's license and a personal vehicle to use for the entirety of the internship; the ability to work outdoors in adverse conditions during hours that correspond to tides and weather patterns; the ability to lift 40 lbs; computer knowledge, including Microsoft Excel; Excellent attention to detail and organizational skills; Enrollment in/ or the completion of a Bachelor's degree program in a scientific discipline.

Location: Most work will occur at the NJ Aquaculture Innovation Center (AIC), but some work may occur at other Haskin Shellfish Research Laboratory facilities (Cape Shore Lab in Green Creek, NJ, and the Bivalve Lab in Port Norris, NJ). Some field work will take place at bivalve farms located across the southern NJ coast.

Other information: A stipend will be provided for the duration (10 weeks, June-Aug) of the internship. Dormitory space may also be available at the Cape Shore Lab (≈15-min drive from the AIC).

Interested applicants: Please send a resume and short (1-2 paragraph) letter of interest to the project coordinator Michael Acquafredda.