NJSGC Celebrates Wright State University Partnership
New Jersey Sea Grant Consortium's partnership with Wright State University, Dayton, OH spans over two decades of educational growth and development.
Earlier this month, NJSGC's Executive Director Claire Antonucci and Education Program Coordinator Diana Burich joined Wright State University's Dr. William Slattery and 18 eager graduate students to observe the Garden State's ever-changing coastline. The group, who are working towards their Masters of Science in Teaching Earth System Science at Wright State, participated in a program developed by Dr. Slattery and NJSGC known as "Ancient Ocean – Modern Ocean."  The two-day expedition included searching for fossils at Poricy Park, surveying the lengthy shores of Sandy Hook, and investigating water quality and other biological parameters aboard a research vessel in Raritan Bay.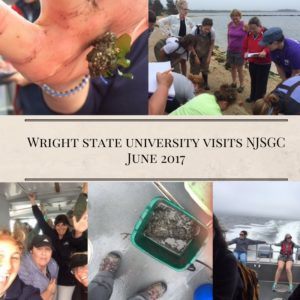 Here's to another successful trip with Wright State University!