New Jersey Sea Grant Consortium Chosen for Marine Debris Community Action Coalition Project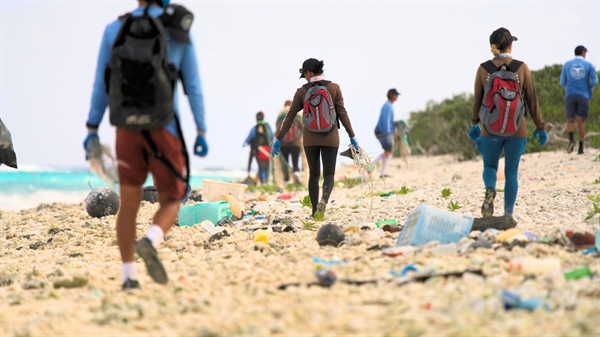 NOAA Sea Grant has just announced $27 million in projects that will address the prevention and removal of debris in marine and Great Lakes environments throughout the U.S. Using Sea Grant's partnered approach to bring science together with communities for solutions that work, the projects will support transformational research and the creation of local coalitions to address urgent marine debris prevention and removal needs.
The projects were competitively selected through two opportunities supported by the Bipartisan Infrastructure Law and leveraging funds from the Inflation Reduction Act: The Marine Debris Challenge Competition and The Marine Debris Community Action Coalitions. Complementary to the work of the Challenge projects, the Community Action Coalitions will engage communities, groups and localities, especially those that have been traditionally underserved, to transfer research into action and inform collaborative on-the-ground marine debris removal and prevention efforts. A total of 19 projects were chosen, including one from New Jersey Sea Grant Consortium.  The full list of Marine Debris Community Action Coalitions and descriptions is available here.
For this project, New Jersey Sea Grant Consortium (NJSGC) will partner with Columbia University through its Eco Ambassador program and with New York Sea Grant (NYSG) to develop effective marine debris curricula while expanding environmental literacy outreach to K-12 students from marginalized communities located in New Jersey and New York urban watersheds. 
NJSGC Executive Director, Dr. Peter Rowe states that "We are thrilled to lead this project with our partners from New York Sea Grant and the Earth Institute of Columbia University's Climate School. The project not only strengthens our regional partnerships but will help us expand our curricula in marine debris, in particular microplastics. Most importantly, the project will deliver this curricula to schools in marginalized communities to increase environmental literacy of a current coastal issue, but will also allow students to participate in experiential, hands-on learning."
NJSGC Director of Education Diana Burich, adds "We are very excited to be collaborating with our partners to expand environmental literacy and plastic pollution awareness throughout  the NY-NJ area's urban watershed communities. Through the EcoEmbassadors Program, K-12 students from traditionally underserved and marginalized communities will learn about the pervasive problem of plastics in their local waterways and will become empowered to find solutions and take action to create a more sustainable environment, which will ultimately have long-term effects on human health and the blue economy. We are grateful for the resources to work with the community and to have the opportunity to collaborate with a great group of colleagues in this important effort." Diana Burich, who is lead principal investigator (PI) on the project, is excited to work with co-PI Radhika Iyengar, Ph.D., Director of Education, Center for Sustainable Development, The Earth Institute, Columbia University.
This work is a component of nearly $3 billion in targeted investments for NOAA in the areas of habitat restoration, coastal resilience and weather forecasting infrastructure through the Bipartisan Infrastructure Law to help America build resilience to climate change. The Bipartisan Infrastructure Law is a historic, federal government-wide investment that furthers NOAA's efforts to build a Climate-Ready Nation. The law's significant investment in NOAA – with funding leveraged from the Inflation Reduction Act – will help to meet the needs of a nation that is ready for and resilient to climate change. The projects announced today represent Sea Grant's initial efforts to support marine debris prevention and removal over the next five years through this legislation.
Press: 
Abandoned boat removals, salt marsh buffers among N.J. projects to be funded with $5M from feds
NOAA Sea Grant announces $27M to further community-engaged marine debris removal and prevention
Biden-Harris Administration recommends funding of $5.1 million for projects in New Jersey to strengthen Climate-Ready Coasts as part of Investing in America agenda