New Jersey Sea Grant Consortium Awards Two Young Scientists at Monmouth Junior Science Symposium
New Jersey Sea Grant Consortium presented awards to two students at the 54th Annual Monmouth Junior Science Symposium. The symposium took place March 17 and 18 at Monmouth University with the goal to promote research and experimentation in the sciences, engineering and mathematics at the high school level. Another important component is to recognize these students for outstanding achievement.
"I was highly  impressed with the caliber of research and the motivation of these young scientists," notes Claire Antonucci, executive director of New Jersey Sea Grant Consortium.  It was an honor to recognize their hard work with these two awards."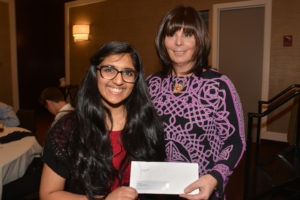 The Consortium provided awards to  students in the environmental science category. The top environmental presenter was awarded $300 and the top environmental poster was awarded $200.
Riya Gohil was awarded for her presentation Modulating AHL Production in Pseudomonas fluorescens: Implications in Water Quality. Ranjan Pati was awarded for his poster Re-purposing an Invasive Species: The Use of the Xylem tissue of Pinus taeda as a Point-of-Use Filter of Waterborne Pathogens.
This is the second year Mike Danko, assistant director of extension, has volunteered to represent the Consortium on the executive committee. The committee assists in recruiting volunteers to review final papers, final selection of papers based on reviews, mentoring students selected to give presentations and posters, and acting as judges during the symposium.
To learn more about the symposium, visit monmouth.edu/university/scholarships-and-awards.aspx.