2019 Fish and Wildlife Marine Recreational Fishing Regulation Cards Now Available
NJSGC's Fish and Wildlife marine recreational fishing regulation cards are now available for 2019. The cards are provided free of charge by New Jersey Sea Grant Consortium, New Jersey Department of Environmental Protection, New Jersey Division of Fish and Wildlife, and the National Oceanic and Atmospheric Administration.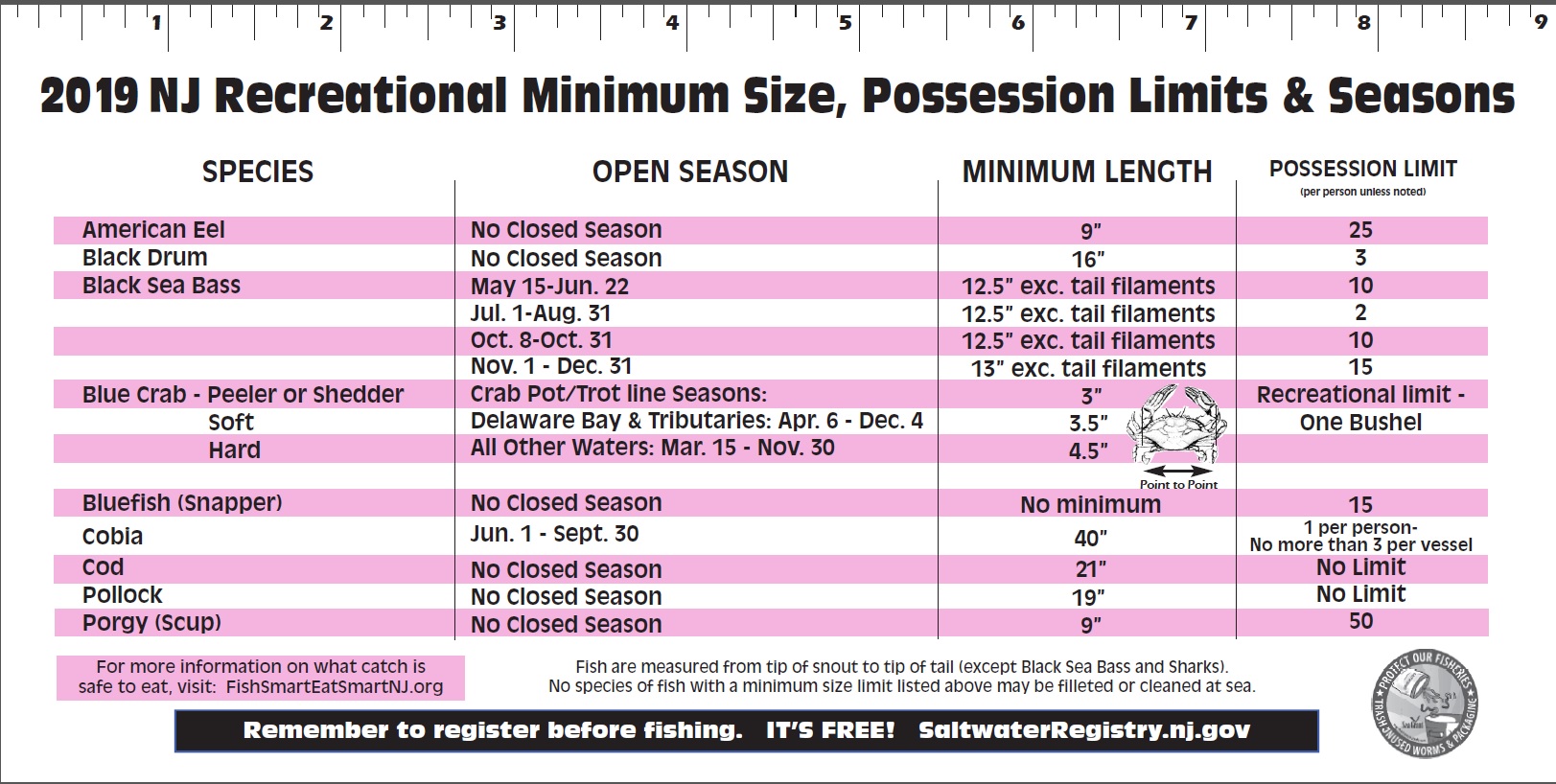 The cards provide information on the correct minimum size, possession limits, and season of catch. The laminated cards are convenient to bring on any fishing outing, complete with built-in ruler to measure your catch and make sure they are above the minimum size.
The regulation cards are distributed to the public through NJSGC and can be found at local marinas, bait and tackle shops, etc. This year, cards can also be found at the New Jersey Natural Gas Studio located on the Asbury Park Boardwalk between 3rd and 4th Ave. NJSGC broadcasts live from this booth every Friday (7:45am and 6:15pm) with 94.3 "The Point" radio.
Fish are measured from tip of snout to tip of tail, with the exception of black sea bass and sharks. No species of fish with a minimum size limits listed on the card can be filleted or cleaned at sea.
The cards also serve as a reminder to register to fish. It is free and can be done at SaltwaterRegistry.nj.gov.
For more information on what catch is safe to eat, visit FishSmartEatSmartNJ.org.
Please visit our website or NJFishandWildlife.com for more resources. Also feel free to contact NJSGC's Assistant Director of Extension and Marine Recreation Agent: Fisheries and Boating Mike Danko for additional information.
RELATED: Attention Anglers, 2019 NJ Minimum Size, Possession Limits & Seasons