Extension Agent Named ASPBA Rising Star
Dr. Amy Williams was awarded the Rising Star Award at the American Shore and Beach Preservation Association Conference. The Rising Star Award is given periodically to honor an individual ASBPA member who has gone above and beyond for the organization.
Dr. Williams, NJSGC coastal ecosystems extension agent, started participating with ASBPA as she worked on her master's degree from Texas A&M in 2007. She credits a connection created at an ASBPA networking event in 2014 for her current position at Stevens Institute of Technology.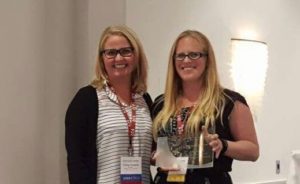 "Through participation in the ASBPA Coastal Conferences and D.C. Summits, I have gotten to experience so many aspects of coastal work that I would never have received in the classroom," she notes. "ASBPA has a diverse group of members that have shown me how much collaboration is needed for coastal projects, such as engineers, geologists, biologists and political entities."
Dr. Williams was awarded for her efforts to engage students and young professionals through social media. She was also recognized for her own time volunteering as well as organizing other volunteers for ASBPA events. She has also worked on the steering committee to for the ASBPA's 90th Anniversary Coastal Conference in Long Branch, N.J. where she organized an ASBPA field trip to New Jersey Sea Grant Consortium headquarters at Sandy Hook.
"I look forward to continuing my work with ASBPA so I can further interact with professionals in my field and help students and new professionals get more involved," she adds.