Horseshoe Crab Twilight Beach Walk – Register now for June 9th event!
Currently no date is scheduled for June 2018. Please stay tuned for more information on future events and activities.
Observe horseshoe crabs in their natural habitat under the stars at the Jersey Shore!
Scheduled in June during the full moon, this program includes a guided hike along Sandy Hook Bay and crafts, a power point presentation, touch tanks, and other discovery-based activities inside NJSGC's classroom and laboratory. This year, our annual twilight walk of discovery at Horseshoe Cove on Sandy Hook will be held on Friday, June 9th from 6:00 – 8:00 p.m. (check-in at 5:15 p.m.). With a warm high tide and a glowing full moon, it's the perfect time to try and see horseshoe crabs on the beach. During this program, you will learn about this amazing living fossil through hands-on exploration, crafts, a PowerPoint lecture, touch tanks, and other activities in our laboratory classroom. This event is open to individuals, families, and groups including scout troops. Cost is $9/person. Open to all ages (under 3 years of age, no charge), but advance registration is REQUIRED before the event. Registration closes on June 7th so be sure to register today!
For more information, please contact Jody Sackett at JSackett@njseagrant.org or call 732.872.1300 x20.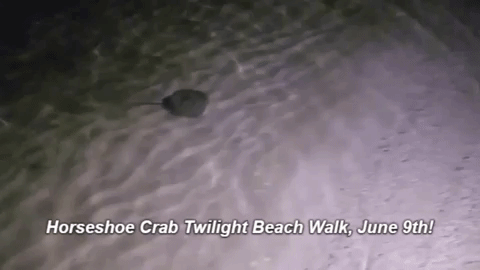 Also feel free to contact NJSGC's Communications Specialist Danica Bellini with any further questions or concerns.