Catch and Release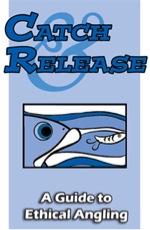 The popular Catch & Release: A Guide to Ethical Angling information packet produced by the New Jersey Sea Grant Consortium Extension Program is now available.  The packet includes a tri-fold brochure that explains the philosophy of catch and release fishing and provides simple, step-by-step instructions for the procedure.
An accompanying laminated card, suitable for placement in a tackle box or boat storage compartment, contains useful information about size and catch limits for the state's most popular marine recreational species. In addition, the packet contains two circle hooks designed to reduce hooking mortality by penetrating the fish's mouth rather than lodging in the throat or gut. Techniques are also described for reducing stress on fish when removing the hook prior to release. The circle hooks included in the packet were donated by the Wright and McGill Company, who manufacture Eagle Claw® fishing hooks.
For a free copy of the Catch and Release packet, contact Michael Danko.
Youth groups, fishing clubs and other organizations interested in obtaining bulk quantities of the packet should contact Marine Extension Agent Michael Danko.